Big Data A Very Short Introduction
Big Data A Very Short Introduction by Dawn E. Holmes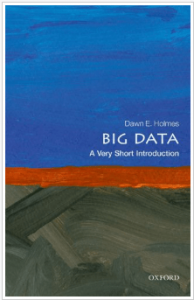 Source:- ZLibrary.Asia
Alternatively you can download the EPUB version from https://b-ok.asia/book/3703926/337568
"Big Data" represents a qualitative change, not simply a quantitative one. The term refers both to the new technologies involved, and to the way it can be used by business and government. Dawn E. Holmes uses a variety of case studies to explain how data is stored, analyzed, and exploited by a variety of bodies from big companies to organizations concerned with disease control. Big data is transforming the way businesses operate, and the way medical research can be carried out. At the same time, it raises important ethical issues; Holmes discusses cases such as the Snowden affair, data security, and domestic smart devices which can be hijacked by hackers.
Year: 2017 Publisher: Oxford University Press
Language: english ISBN 13: 9780191085048 Series: Very Short Introductions
File:EPUB, 451 KB
Here you can go to have the pdf version of the book